President's Message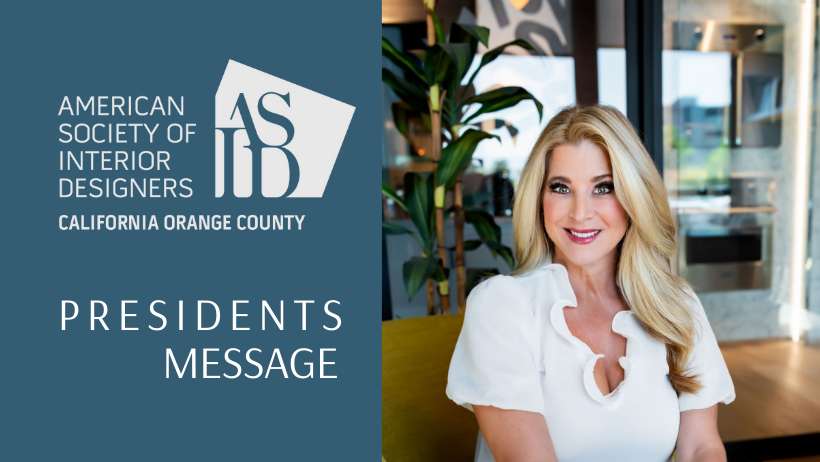 "With a new day comes new strength and new thoughts." - Eleanor Roosevelt
It's a new DAY at ASID CA OC! It is a time to all come together to embrace the new day, new dreams, new changes and challenges, new success, and new blessings! I am humbled and honored to be your chapter President leading the way of this brand new day! Let us stand together this year and be creative, be leaders, educate ourselves and each other, but most importantly let us bond with strong connections while having fun!
The year ahead will be filled with many exciting events, meetings, speakers, and subjects for all of you in our talented Design community of Orange County! Leading the way with me will be my stellar board of directors with their creativity and enthusiasm for interior design and ASID OC's growth and inclusion foremost in their minds. They have already been hard at work volunteering their valuable time to support you and our chapter to create the most unique and brand new ASID OC we have ever experienced. With gratitude I thank them for their wisdom, enthusiasm, energy, and out of the box thinking to create a powerful year for my term and your chapter this year. Without my amazing board our chapter would not exist, and I am so grateful.
ASID CA OC is an extraordinary group of talented designers, industry partners and students. Always expanding their creative talents, searching for more knowledge, love of collaboration and wanting to help others be informed. Design has always been about looking to the future, to create better products, spaces, buildings, experiences and is always an on-going educational experience. My goal is to insure through valued experiences, continued education, collaboration, inclusion, and getting to know all our resources you are offered this at the highest industry standard as we maximize our ASID membership. There are so many benefits to being involved in ASID, more than 40 free CEU's and webinars, discounts and trade opportunities with industry partners (IP's), industry design awards, leadership opportunities, access to regional and local chapter network of peers but above all we are building a strong inclusive design community. I look forward to leading us all to a NEW DAY and a successful year! Thank you in advance for partnering with me as we take this journey together.
Jessica Jones, Allied ASID
President 2021/2022