President's Message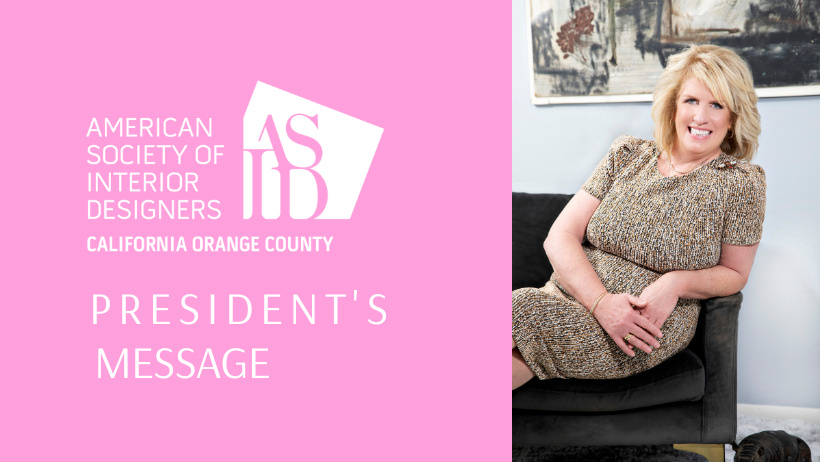 I am thrilled and honored to have been elected President of ASID of Orange County, CA!
I feel that with this title comes the responsibility to raise the bar of the chapter and its members' experience. My board and I are prepared and are excited to go above and beyond in making Orange County the "Design Mecca" of Interior Design. We have top designers, top publications, and top trades at our fingertips—more so than in any other county in the USA. We want to show the country what we can offer the design community and our clients. As we highlight our amazing industry partners and their stunning showrooms at our monthly mingles and round tables, you will see first-hand the elite of our industry showcasing their talents and their approaches with the IPs!
With my corporate world background, heading up Barbie Design, I have already created a plan-O-gram with my board, mapping out what I hope will be an amazing year with our industry partners and magazines. They are already excited about the new breath we are giving ASIDOC and the influencers that will bring ASIDOC to the next mega level in design and how the world views us. It is going to be an exciting year with educational themes, partnerships with high-end real estate properties, showrooms, and contractors & Architectures who are the best in the business! And the real focus will be on you, the designer, and leveling up your business. To enhance your business, you can expect some surprises and famous influencers as guests for our mingles.
To make Orange County the mecca of Interior Design, opportunities and resources will be provided for people to be included in our new strategic thought-process fostering more inclusivity in our chapter. Our core value creates a welcoming environment that embraces new members and students and offers a partnership with us as a community to advance you and your opportunities in design and business. So come out to our fabulous events and join us in the fun!
This will be a powerful and exciting year to meet new members and Industry partners! Already we have begun to sign new Industry partners—ones you will be thrilled to meet to advance your business and client experiences. Thanks for the confidence you've placed in me. I am excited to be your champion as we grow our chapter and legacy in the design world in Orange County!
Pamela Barthold, Allied ASID
President 2022-2023